News and Sucess Stories
We value and support a cooperative spirit
KBDC NEWS AND SUCCESS STORIES
We value and support a cooperative spirit in everything we do at KBDC. With many years of involvement in supporting businesses, and in helping entrepreneurs as you succeed in the Kivalliq Region, we know what it takes to get and keep a business going.
We are proud of the accomplishments of our many clients over the years and encourage you to contact us to discuss how KBDC can help you become our next success story.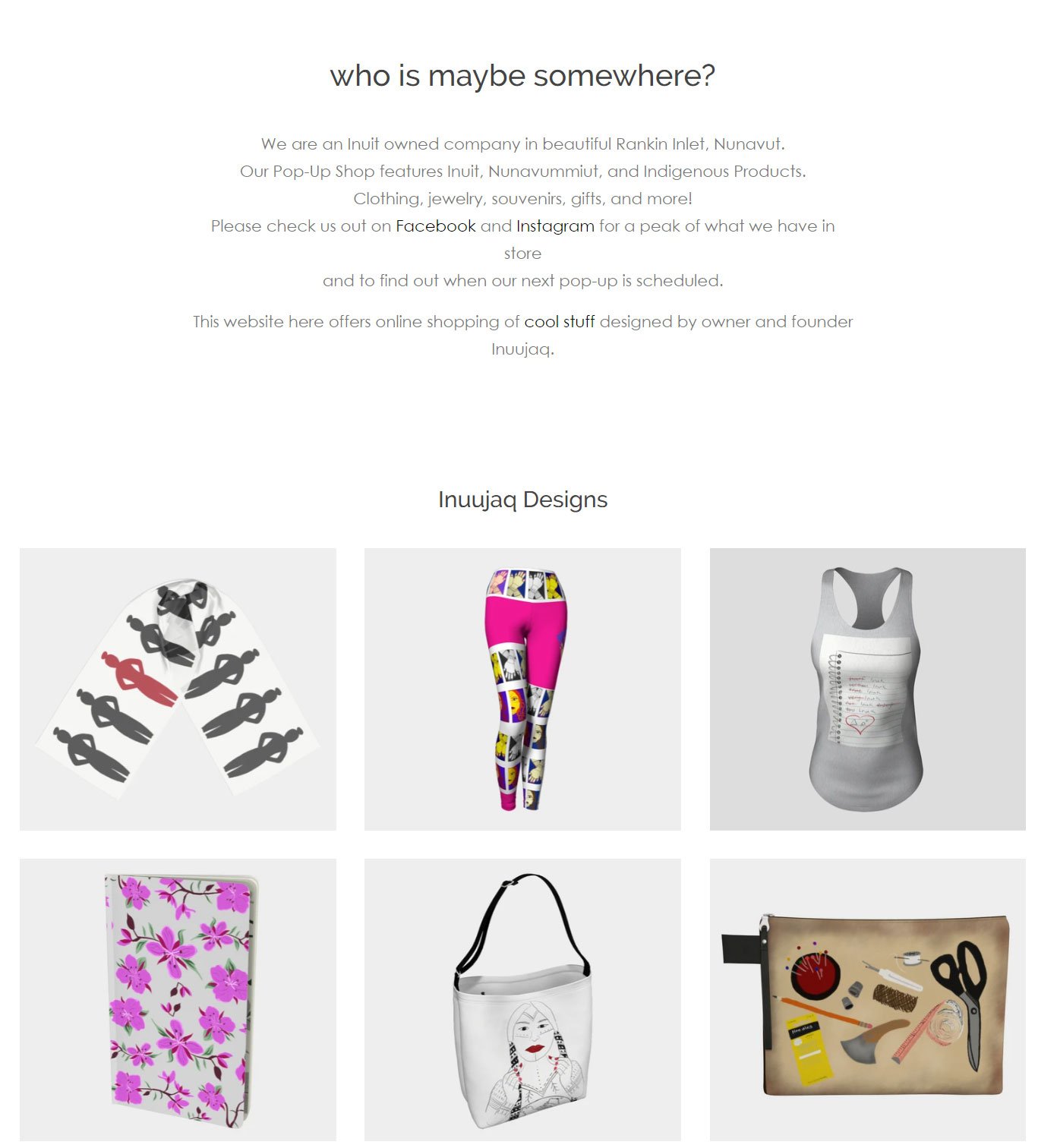 MAYBE SOMEWHERE
Maybe Somewhere, www.maybesomewhere.ca, is owned by Inuujaq Leslie Fredlund of Rankin Inlet, Nunavut. It began in January 2020.  As a married mother of four children, Inuujaq who attended Nunavut Sivuniksavut (Inuit Studies) in Ottawa, and Western Academy of Photography in Victoria, B.C., established Maybe Somewhere as a new form of flexible arts enterprise with a limited footprint business model.  Inuujaq says, "I've always been involved in arts and have been self-taught, taught at artists workshops during festivals, and from family and friends."
Inuujaq founded this company based on her love of the arts and crafts, and her desire to share and promote products she cares about. As a designer and crafter, she considers suppliers not only as friends and extended family but also as partners in offering customers a purchase that impacts the Nunavut economy in a positive and meaningful way.  It's a local business that supports and promotes other local businesses.  Key partners and suppliers include favourite brands like Hinaani Inuit Apparel, Sikiniq St Designs, Nu Brew Co, Tundramoon Designs, Kaajuk Fine Jewelery, Cheekbone Beauty, and Kyak Boutique. Inuujaq also adds that Maybe Somewhere values and "consider all our suppliers as major players."
"In obtaining our mobile boutique we prioritize sourcing equipment and supplies from local and Inuit companies such as JL Repair for Solar Power solutions and Arctic Buying Co. for a trailer and supplies. Our partners range from well established brands, part time crafters, and up and coming designers."
Maybe Somewhere began as a form of "Pop-Up Shop" to reduce overhead costs and environmental impact.  Rather than mobile operation of Maybe Somewhere from boxes and her home, Inuujaq sought assistance from Kivalliq Business Development Centre (a Community Futures Association), Kivalliq Inuit Association and the Government of Nunavut's Economic Development & Transportation business assistance programs. Her goal was to obtain an enclosed trailer for use as a mobile boutique – equipped with built in displays and powered by a clean solar power alternative energy solution. All three agencies worked together supporting her business and have approved funding for Maybe Somewhere's capital needs.
"A mobile boutique will allow the company to diversify in location. Offering a fun experience to customers while also targeting large events to reach customers at their convenience. Target Demographic – Our demographic is wide and diverse. Whether you are an avid Inuit Jewellery collector, someone looking to buy a special loved one a gift, you have an interest in craft brewery apparel & accessories, you love fashion and make-up, or you're visiting the town and want a souvenir – your treasures await at Maybe Somewhere. We carry products ethically sourced and made by Inuit, Nunavummiut and Indigenous suppliers fit for every age and every gender."
If you're in Rankin Inlet and seek to shop, Maybe Somewhere may pop-up at locations or events you attend!